Høysesong for veggedyr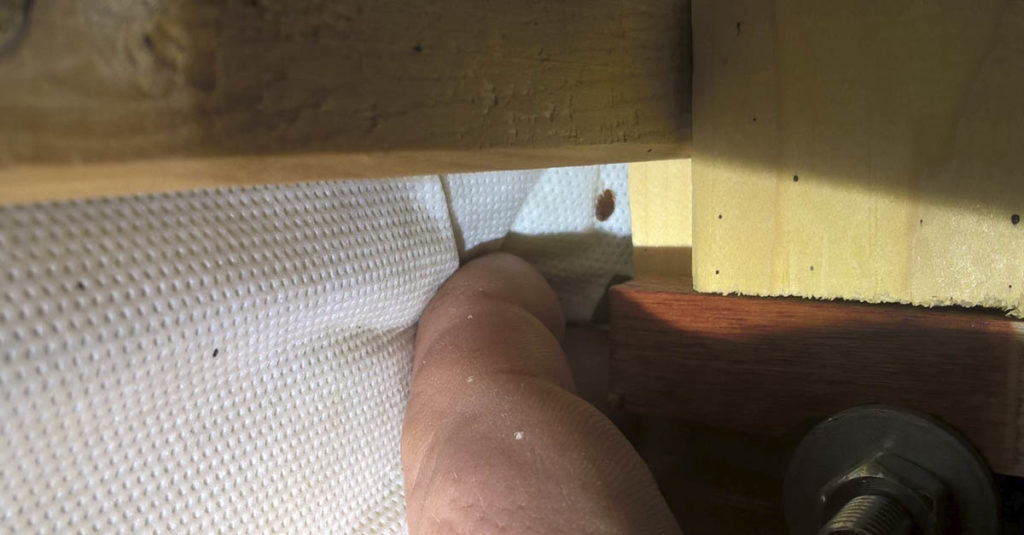 August, september og oktober er høysesong for veggedyr
Hvert år øker antall veggedyrsaker markant i august, september og oktober. Forsikringsselskapene forventer et rush av skademeldinger i tiden som kommer.
Publisert: 28.08.2019
– Det er tydelig at økningen av veggedyrsaker oppstår i og etter ferien, sier markeds- og kommunikasjonsansvarlig Inger Kringlebotten i Norsk Hussopp Forsikring.
Forsikringsselskapet opplever en dobling av henvendelser som gjelder veggedyr i månedene august, september og oktober sammenliknet med de resterende månedene i året.
– Vi ser allerede en kraftig økning i antall tilfeller, og får daglig telefoner fra fortvilte kunder. Veggedyrene formerer seg raskt og kan være kostbare og vanskelige å bli kvitt, derfor bør man ikke utsette å ta tak i problemet, sier Kringlebotten.
Dyktige haikere
De plagsomme insektene følger med i bagasjen når folk er ute og reiser. Veggedyrene er små, og kan gjemme seg nærmest over alt. De kryper gjerne inn i klær, sengetøy og kofferter. En sjelden gang kan de også gjemme seg i USB-uttaket på PC-en, i tastaturet eller i dekselet på mobilen.
– Som regel merker ikke folk at de har fått de uvelkomne blindpassasjerene i hus før de oppdager bittmerker på kroppen, eller de finner flekker av ekskrementer på sengetøy eller andre steder, sier hun.
Veggedyr er en parasitt som lever av blodet vårt. De liker seg best der det er mat og bor derfor gjerne i nærheten av sengen. De biter gjerne om natten når vi sover og drikker i 5-10 minutter før de løper tilbake til gjemmestedet sitt. Bittene er ikke farlige, men de kan være plagsomme da de ofte gir en reaksjon som kløe og hevelser.
Resistente mot gift
Folkehelseinstituttets statistikk over skadedyr viser at det har vært en markant økning i antall veggedyrbekjempelser fra 2006 til 2016, med en liten nedgang fra 2016 til 2018. I 2016 ble det registrert i overkant av 3000 bekjempelser, mens det i 2018 ble registrert noe over 2800.
Forsker Anders Aak ved Folkehelseinstituttet mener det er to grunner til at insektene har fått en oppblomstring.
– Veggedyr har eksistert lenge i Norge, men ved hjelp av nye insektmidler ble parasitten nesten utryddet på 50-tallet. På grunn av resistens mot insektmidlene og økt reiseaktivitet blant nordmenn har forekomsten av veggedyr økt kraftig de siste 15 årene, sier Aak.
Han mener større bevissthet når man er på ferie i utlandet, og gode saneringstiltak er viktige i kampen mot skadedyret.
Hva gjør du?
Har du mistanke om at du har fått veggedyr i huset, bør du tilkalle profesjonell hjelp.
– Det finnes dessverre foreløpig ingen enkle måter å bli kvitt dem på. Rengjøring og hygiene har svært liten effekt, sier Inger Kringlebotten i Norsk Hussopp Forsikring.
Bekjempelse kan innebære betydelige utgifter og praktiske utfordringer. I verste fall må boligen tømmes og innboet fryses eller varmebehandles.
– Det beste tipset er å ta noen forhåndsregler når du er ute og reiser. Sjekk hotellrommet, finner du spor etter veggedyr bør du be om et annet rom. Selv om ett rom har veggedyr trenger ikke naborommet ha det, sier Kringlebotten.
Legg aldri kofferten eller klær på sengen. Det kan være smart å legge kofferten på en bagasjeholder eller i badekaret. Husk også at skittentøy virker attraktivt for veggedyr fordi det lukter av oss. Unngå derfor skittentøy på gulvet, og oppbevar det helst i lukket pose. Dersom du mistenker at du kan ha fått med deg veggedyr er det viktig å sørge for at du ikke får de med inn i boligen.
– I slike tilfeller kan man pakke ut bagasjen ute eller eventuelt i badekaret og riste kraftig. Tekstiler kan vaskes på minimum 60 grader eller fryses i minimum -18 grader i 3 døgn. Da dør veggedyrene, forklarer Kringlebotten.
Tegn på angrep:
Fysiske stikk og reaksjoner på kroppen. Det ser gjerne ut som et myggstikk eller utslett.
Se etter individer. De er rødbrune og 5-6 mm lange og 3 mm brede (omtrent på størrelse med en druestein).
Sjekk sengen for små blodflekker på sengetøyet.
Se etter brunsorte ekskrementflekker og grupper med små svarte prikker, for eksempel i sprekker på sengerammen og i sømmer på madrassen.